While on this side of the pond the first Monday in May means a bank-holiday lie in, in New York the day of the biggest event on the fashion fundraising calendar is dawning. Each year the Met Gala brings together the most famous faces from the realms of film and fashion, all dressed in their own interpretations of the theme du jour. But what is the price of a ticket to attend the prestigious affair? Which famous faces does Anna Wintour enlist to host alongside her? And just how long was the train of that famous egg-yolk gown that Rihanna wore in 2015? Here's everything you need to know.
Text: Katie Berrington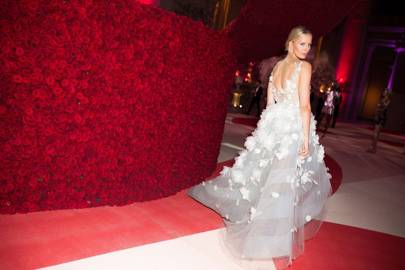 1 million
The total number of flowers that went into the lavish decoration of 2016's Gala (many of which had been flown 2,500 miles from Colombia). Few expenses are spared to ensure that the decor is on point for the illustrious event.